Temporary COVID-19 Hours
Click the store addresses to see them on Google Maps
6326 Covington Rd
Monday/Wednesday/Friday: 10am-6pm
Tuesday/Thursday: 9am-6pm
Saturday: 10am-3pm
10088 Illinois Road
Monday/Tuesday/Wednesday/Friday: 10am-6pm
Saturday: 10am-6pm
10910 US Hwy 24
Monday-Friday: 10am-6pm
Saturday: 10am-3pm
3124 St. Joe Center Road
Monday/Tuesday/Wednesday/Friday: 10am-6pm
Thursday: CLOSED
Saturday: CLOSED
Are you too busy to complete your everyday errands?
Our Fort Wayne Dry Cleaning service has been helping local residents with dry cleaning needs since 1986! Our Done Rite services are always next day service with same day service available. Drop off your dry cleaning one day and have it back the next! Dry cleaning keeps your clothes fresh and looking like new longer. Increase your garments lifespan with professional dry cleaning from Done Rite Cleaners.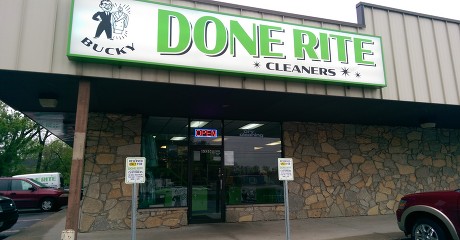 Get your hands on our discounts!
Our current promo code is 0411, write this code on your coupon to recieve the full discount! Coupons without this code will be accepted at a lower discount.
Family owned and operated for 28 years
Our local, Fort Wayne owned and operated, company has been serving you since 1986 and we aren't slowing down any time soon. Call us today to set up your home delivery service. We also pick up for offices and businesses in Fort Wayne. Set up is as easy as calling 432-7358.